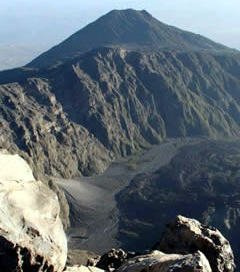 Located in the heart of the Arusha National Park, Mount Meru is Tanzania's second tallest mountain and the fourth highest in Africa. Standing at 4,566 metres high it is often used as a warm-up for Mount Kilimanjaro but we believe Mount Meru is a very rewarding trek in its own right.
It offers rustic hut style accommodation as well as impressive views and diverse vegetation from dense mountain rainforest, healthy moorlands to alpine desert and you will have the opportunity to witness wildlife such as giraffe, buffalo, elephants, antelopes and the colobus money. In addition to your trekking team including your Guide, Chef and Porters you will be accompanied by an armed Park Ranger.
Mount Meru can be trekked in 3 or 4 days and it is important to take into consideration your level of fitness and mountain climbing experience in high altitudes when deciding on your itinerary. Unless you are experienced in high altitude mountain treks we recommend a 4 day trek as this allows more time for your body to acclimatise which will you a greater chance of reaching the summit. We are proud to have a current summit rate of 100% on Mount Meru and we look forward to challenging you and taking you on the trek of a lifetime.