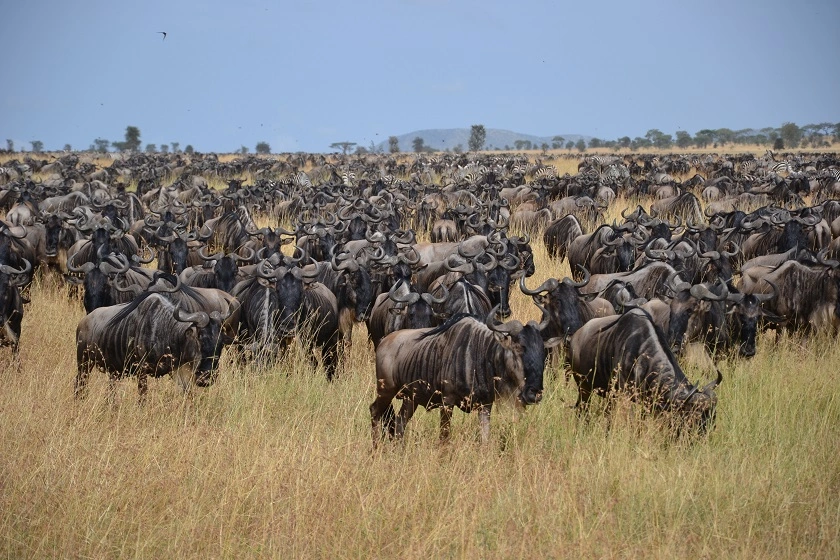 Wildebeest Calving Season Safari in Ndutu
Wildebeest Calving Season Safari in Ndutu – 6 Days Safari: Experience the calving season of the great wildebeest migration in Ndutu, Serengeti National Park. Only during the exclusive wildebeest season from the 31st of Dec to the 30th of April each year you will find the extraordinary wildlife experinece in Tanzania. Be part of the calving season in Ndutu and enjoy the miracle of nature! You will search for the Big 5 in the Ngorongoro Crater and during your safari you will meet the Maasai and learn about the culture, beliefs and traditions of this nomadic tribe.
Enjoy a sundowner around the campfire and dinner under the African sky by choosing a lodge, tented camp or a mix of both opportunities!
This tour starts and ends in Arusha at Kilimanjaro International Airport or Arusha Airport. Alternatively, this tour can start and end in Dar es Salaam or Nairobi and we can book internal flights on request. Our tours are private safaris run exclusively for you and can depart on any day. We recommend booking early to avoid disappointment. Children are welcome on this safari from any age. There are also discounts for children between 0 and 15 years old and further discounts for families sharing a triple or quad room.
A Tanzanian holiday is a dream come true and a once in a lifetime experience for most of our clients. We understand that every traveller is different and we are proud to offer a range of optional activities to enhance your safari experience. Please find our range of optional activities in "Enhance your safari experience".
You call it Africa – We call it Home! We are pleased to host you in Tanzania for the journey of a lifetime. Karibu Tanzania!
More Information: https://tanzania.vacation-check24.com/booking/wildebeest-calving-season-ndutu-6-days-safari/
Read more: https://bensonsafaris.com/en/benson-tanzania-safaris-overview/travel-styles-for-safaris-and-mountain-treks/