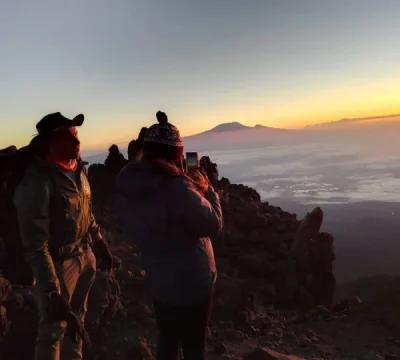 Mount Meru Hike
Mount Meru – 3 Days Hike: Located in the heart of Arusha National Park, Mount Meru is the second highest mountain in Tanzania and the fourth highest in Africa. With an elevation of 4,566 meters, it is often used as a warm-up for Kilimanjaro, but we believe Mount Meru is also a very rewarding hike in it's own right. It offers rustic hut-style accommodations as well as impressive views and diverse vegetation ranging from dense mountain rainforest to healthy moorlands and alpine desert. You will have the opportunity to observe wildlife such as giraffe, buffalo, elephant, antelope and the colobus monkey. In addition to your trekking team consisting of guide, cook and porters, you will be accompanied by an armed park ranger.
Mount Meru can be hiked in 3 or 4 days, and it is important to consider your fitness level and experience with high altitude mountaineering when choosing your itinerary. If you have no experience with high altitude trekking, we recommend a 4 day trip as this will give your body more time to acclimatize and give you a greater chance of reaching the summit. We are proud to say that we currently have a 100% summit rate on Mount Meru, and we look forward to challenging you and taking you on the trek of a lifetime.
A Tanzanian holiday is a dream come true and a once in a lifetime experience for most of our clients. We understand that every traveller is different and we are proud to offer a range of optional activities to enhance your hikinng experience. Please find our range of optional activities in "Enhance your safari experience".
You call it Africa – We call it Home! We are pleased to host you in Tanzania for the journey of a lifetime. Karibu Tanzania!
More Information: https://tanzania.vacation-check24.com/booking/3-days-hike-mount-meru-2-2/
Read more: https://bensonsafaris.com/en/mountain-trek-overview/destinations/mount-meru/