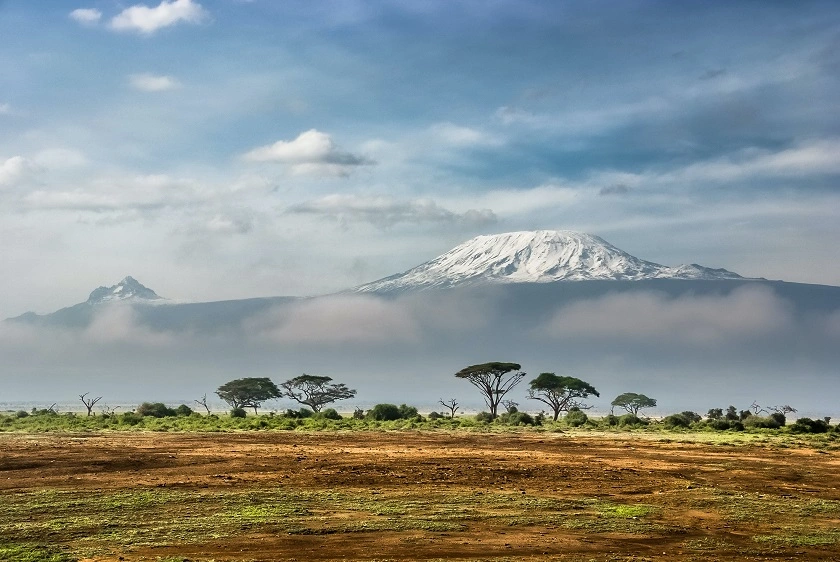 Kilimanjaro – Machame Route
Kilimanjaro – Machame Route 8 Days: Conquer the "most beautiful roof of Africa", Kilimanjaro, the highest mountain of Africa on the Machame Route. At almost 6000 meters, the impressive Kilimanjaro is not only the highest mountain in Africa but also one of the highest free-standing mountains in the world. The truly huge-looking massif consists of three merged, extinct volcanoes. The "Uhuru Peak – Freedom Peak", also called Kibo, with 5895 meters (according to the latest measurements 5891.7 meters) is the highest elevation and the goal of most mountaineers. Followed by the Mawenzi, 5149 meters and the Shira, 3962 meters.
The Machame route is also known as "whiskey route" due to it's steepness but with it's best natural forest which covers about 12km. You will have breathtaking nice view for sunset over Shira peak and Mount Meru, a good acclimatization and our success rate is more than 95%. Machame and Lemosho route meet up together before "Lava tower".
Kilimanjaro offers a unique attraction for climbing. The ascent leads from the tropics to the glacier and six types of vegetation are passed through on the way. The richness of species in the rainforest and moorland zone is staggering. Contrast this with the barren landscape of the stony desert of the highlands. The accompanying view of the snow-capped peak and the dry plains of the vast surroundings will make the heart of any hiker beat and the happiness hormones of any nature lover rise.
For the inhabitants of the mountain, the Chagga, Kilimanjaro is sacred and they firmly believe that on it is the house of God. In the past, they did not dare to climb the peak either. It was not until 1871 that the English missionary Charles New reached the snow line of Kibo. On October 6, 1889, the Leipzig geographer Dr. Hans Meyer together with the Austrian alpinist Ludwig Purtscheller reached the highest point of the crater rim. The then "Kaiser Wilhelm Peak" was renamed "Uhuru Peak" in 1961 on the occasion of Tanzania's independence.
A Tanzanian holiday is a dream come true and a once in a lifetime experience for most of our clients. We understand that every traveller is different and we are proud to offer a range of optional add ons. Please contact us for any special requirements due to your trek with us!
You call it Africa – We call it Home! We are pleased to host you in Tanzania for the journey of a lifetime. Karibu Tanzania!
More Information: https://tanzania.vacation-check24.com/booking/8-days-kilimanjaro-machame-route/
Read more: https://bensonsafaris.com/en/mountain-trek-overview/destinations/mount-kilimanjaro-tanzania/