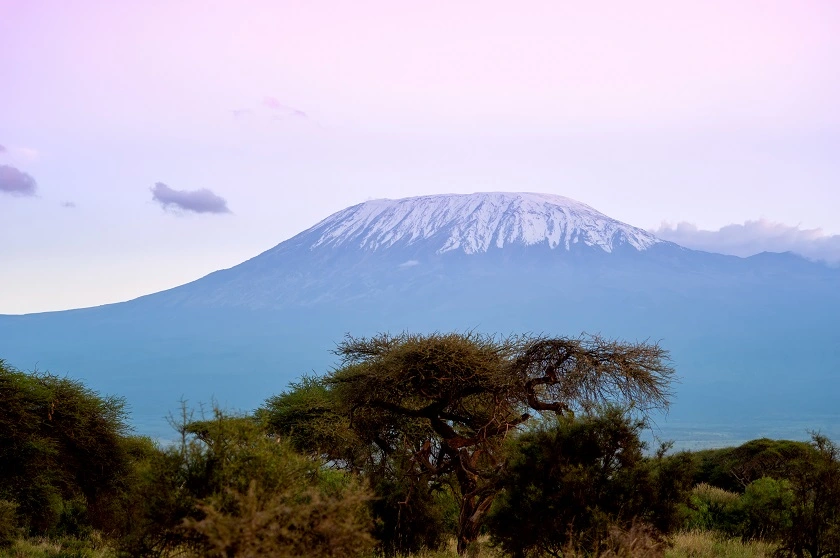 Day Excursion Mount Kilimanjaro (Shira Route)
Day Excursion Mount Kilimanjaro (Shira Route): Shira Gate (3,400 m) to Cathedro Hut (3,900 m): Enjoy the breathtaking views of Mount Kilimanjaro (weather permitting). The choice is yours: You can reach the small route on foot or with our driver (no physical stamina required).
After breakfast, your guide will pick you up in Arusha or Moshi and drive you to the famous gate of Londorossi National Park. On the way you can enjoy culture, land and people and ask your guide about the day trip. After completing all the necessary registration formalities at the gate of Londorossi National Park, you will continue a short distance on a steep trail through farmlands and plantations (3400 m) and continue to climb on foot through scrub forest and huge heather to reach the edge of Shira Plateau (3,350 m). Views of the surrounding plains open up as we climb to the center of the plateau at "Shira One" (3,900 m). Once at your destination, you will enjoy your lunch box with magnificent views of the highest roof in Africa!
Once in the open moorland, you will have the opportunity to see some of Kilimanjaro's most spectacular plants, including the endemic giant lobelia, which grows up to 3 m tall. After a 4-hour descent to Shira Gate, you will return to Moshi to your accommodation, where you can enjoy some much-needed rest with a glass of wine in the evening.
Price per person: Upon request!
Starting from Arusha every day. Please contact us for details or if you which to be picked in another location, e. g. Arusha.
A Tanzanian holiday is a dream come true and a once in a lifetime experience for most of our clients. We understand that every traveller is different and we are proud to offer a range of optional activities to enhance your safari experience. Please find our range of optional activities in "Enhance your safari experience".
You call it Africa – We call it Home! We are pleased to host you in Tanzania for the journey of a lifetime. Karibu Tanzania!
More Information: https://tanzania.vacation-check24.com/booking/day-excursion-kilimanjaro-shira-plateau/
Read more: https://bensonsafaris.com/de/mountain-trek-overview/destinations/mount-kilimanjaro/