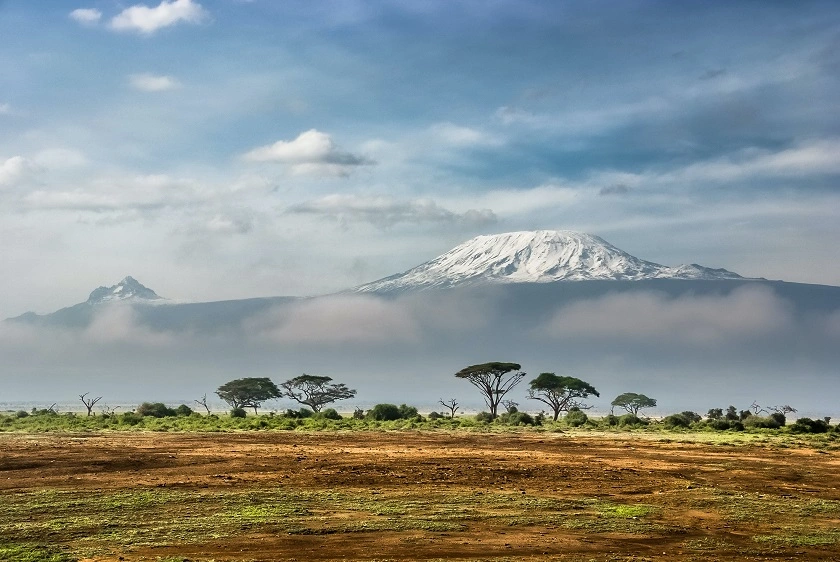 Day Excursion Mount Kilimanjaro Mandara hut or Maundi Crater:
Mount Kilimanjaro Day Excursion from Marangu Gate (1,860 m) to Mandara hut (2,715m) or Maundi Crater (3,000 m): After breakfast you will depart from Arusha and drive to Moshi, then you move on to the Kilimanjaro National Park gate. The journey passes through the village of Marangu, which is located on the lower slopes of the mountain. Once you reach the park gate, all hikers are requested to sign in at the Park office and make their final preparations for the climb. You now leave the park gate and ascend on a cleared ridge trail through the rainforest. The forest, suffused with mist and dripping with beards of moss, is also where most of Kilimanjaro animals are found. Be enchanted by the breathtaking scenery of Kilimanjaro!
We recommend this day hike for travelers who already have hiking experience.
Optional: This route can be extended for experienced hikers up to Maundi Crater (3.000 m)
Mandara hut (2,715 m) to Maundi crater (3,000 m)
From Mandara Hut, the trail passes through a short stretch of forest, skirts the base of Maundi Crater, and then emerges into a transition from rainforest to moorland. It is worth hiking the short detour up to the rim of Maundi Crater for the first truly impressive view of Kibo Crater. On a clear day, Kibo will shimmer in the distance, showing off her majestic glaciers in the morning sun. Once you are in the open moorland, you will also have the chance to see some of Kilimanjaro's most spectacular plants, including the endemic giant lobelia, which grows up to 3 meters height. After a 3-hour descent, you will reach the gate and drive back to Moshi for some much needed rest.
Price per person: Upon request!
Starting from Arusha every day. Please contact us for details or if you which to be picked in another location, e. g. Arusha.
A Tanzanian holiday is a dream come true and a once in a lifetime experience for most of our clients. We understand that every traveller is different and we are proud to offer a range of optional activities to enhance your safari experience. Please find our range of optional activities in "Enhance your safari experience".
You call it Africa – We call it Home! We are pleased to host you in Tanzania for the journey of a lifetime. Karibu Tanzania!
More Information: https://tanzania.vacation-check24.com/booking/day-excursion-kilimanjaro-mandara-to-maundi/
Read more: https://bensonsafaris.com/de/mountain-trek-overview/destinations/mount-kilimanjaro/