Travel Styles in Tanzania for Safaris and Mountain Treks – When booking an African safari it is important to think carefully about the style of trip you are after and when it comes to accommodation would you like the luxury and conveniences of a wildlife lodge or tented camp or would you prefer to get closer to nature with a full service camping safari?
Below is an overview of the different travel styles we offer.
WILDLIFE LODGES in Tanzania:
Tanzania's wildlife lodges are built with "a touch of luxury in the wild" philosophy in mind, allowing you the comforts of home in remote locations. Returning from your extraordinary day of sightseeing, you'll be welcomed back by the friendly lodge staff and after a hot shower in your ensuite bathroom, you can relax in your tranquil room with furnishings that create warmth and demonstrate a commitment to local craftsmanship or enjoy a swim in the pool.
Dining is always an event and even though you're miles from anywhere you'll be amazed at the variety and quality of food on offer. The chefs pride themselves in creating mouth-watering dishes using fresh ingredients and flair.
We know the value of starting the day of exciting exploration on the right foot and enjoying a sumptuous buffet breakfast will ensure you'll fuelled and energized for the day ahead.
As you head out in search of the Big 5, your wildlife lodge will provide a freshly-prepared picnic lunch that allows you to dine in some of the national park's most spectacular locations.
And when you finally sit down to enjoy your evening meal, you're in for a delightful experience. In the superb setting of your chosen lodge, you'll be able to linger over a 3-course dinner sampling some of the region's finest foods and wines.
Wildlife lodges provide you an unparalleled comfort during your Tanzanian experience.
---
TENTED CAMPS in Tanzania:
Seek adventure without comprising your comfort as you experience a unique safari experience as the glow of the lanterns flicker against the canvas and you fall asleep to the sounds of the African bush in Tanzania.
Tented camps are designed for you to enjoy an exclusive experience in some of the most remote regions of Tanzania. The camp's friendly onsite Manager and team will make your stay all the more memorable. From the moment you arrive, you'll notice their exceptional level of personal attention and care. They go out of their way to ensure you enjoy the secluded surrounds.
Tented camps offer many comforts including king, double or twin beds, crisp linen and ensuite bathrooms with flushing toilets and hot bucket showers or for the adventurous, a shower under the stars in the bush bathroom. Settle into your comfortable deck chair and as the sun sets you're left wanting for absolutely nothing and even though you'll be miles from anywhere, you'll be amazed at the variety and quality of food on offer, prepared by the Chef in their bush kitchen.
Meals will be enjoyed in the communal mess tent and as night falls and the bush transforms, there is no better place to soak up the atmosphere than in the dining tent followed by a drink by the campfire.
Usually small with limited guests, tented camps will offer a touch of romance to your safari.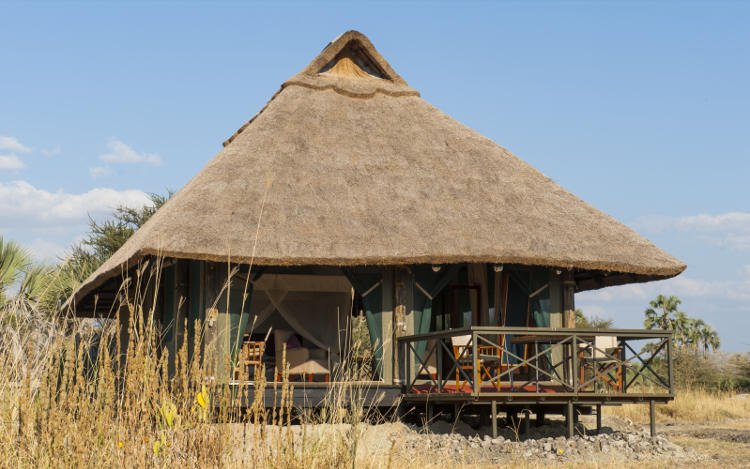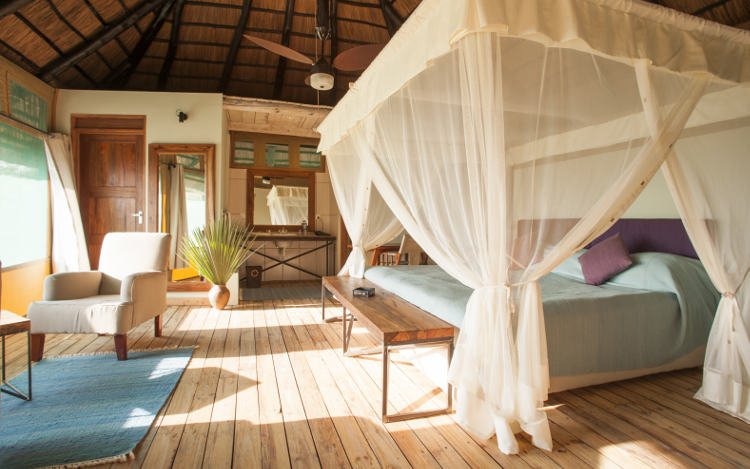 ---
FULL SERVICE CAMPING:
Full Service Camping is an economical way to gain insight into local cultures and will bring you closer to the region's wildlife.
All of our Full Service Camping safaris are non-participation which means that you do not have to pitch your tent or help with things like cooking, washing up or packing up the camp. Each safari operates with a Guide and Chef and it is they who will do the hard work while you enjoy the best of the Tanzanian bush. For safaris with four or more passengers, we also take a supply vehicle and camping assistants.
Every detail is taken care of, and we include all camping equipment including all-seasons waterproof dome two-person tents, cot, mattress, sleeping bag and pillow.
Adding that extra special touch, your team will light a campfire as night falls and as the bush transforms, you can relax at the end of each day and enjoy the beauty of the African sky.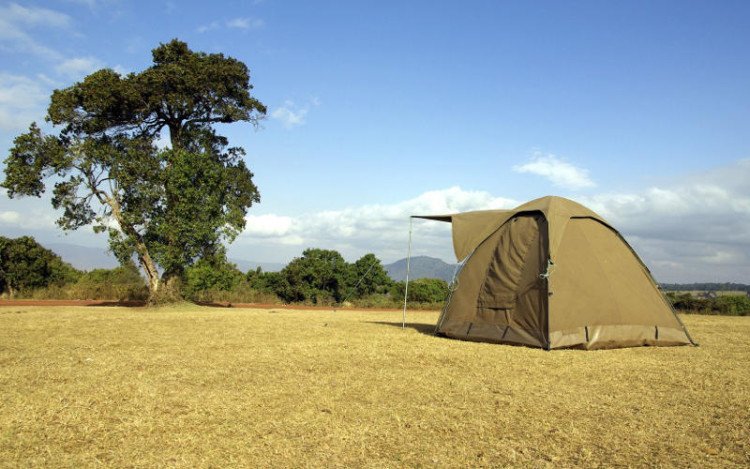 ---
FLY IN AND FLY OUT: 
Our Fly-in, Fly-out safaris are perfect for people who have a short amount of time or those who want to experience a little luxury in the bush. All the main safari parks in the northern safari circuit have airstrips and these are operated by scheduled flights. Accommodation for fly-in, fly-out safaris can be tented camps or wildlife lodges, and we will make recommendations depending on your chosen itinerary and budget.
While it is much faster to fly-in and fly-out, you won't get to experience the Tanzanian countryside and bush like you do on a driving safari. This is why many of our clients mix travelling by road and air, so they can experience the best of both.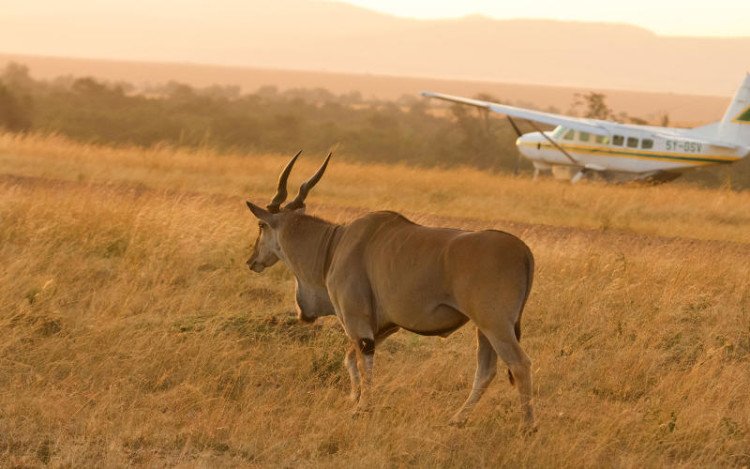 ---
TAILOR-MADE:
Experience the best of both worlds and combine wildlife lodges and tented camps on any safari itinerary over 4 days in duration.